MISSION
To empower children from poor and marginalized communities leading to improved life of dignity through education
ABOUT KHUSHII
Recent survey analyses have shown that learning levels in Government run primary schools have remained consistently low. More alarming is the fact that almost half the children drop out after 8 years of elementary education, without acquiring minimum acceptable foundation skills. Poor classroom processes has been identified as a major reason for the low learning outcomes. Without adequate facilities to improve learning, children, especially those who have entered first time in a formal school, will lag behind and result in low motivation to come to school.
KHUSHII is committed to address these challenges by promoting equity to enable children to learn, explore and achieve. Through its flagship programme 'Shikshaantra Plus', KHUSHII addresses the challenges of poor infrastructure, low Pupil-Teacher Ratio, low learning levels and drop-out in government schools. Its 'Complete School Transformation' model in collaboration with State Education departments aims to improve school through introduction of facilities to ensure improved attendance and reduced dropout rate. Under the programme, KHUSHII is providing remedial education and counseling support, digital learning, STEM education, and extracurricular activities such as sports, recreational, art and craft. Additionally, KHUSHII also channelize resources on the training of teachers, infrastructural improvements and upgradation of sanitation facilities for improved learning experience for children in school.
BENEFITS OF PARTICIPATION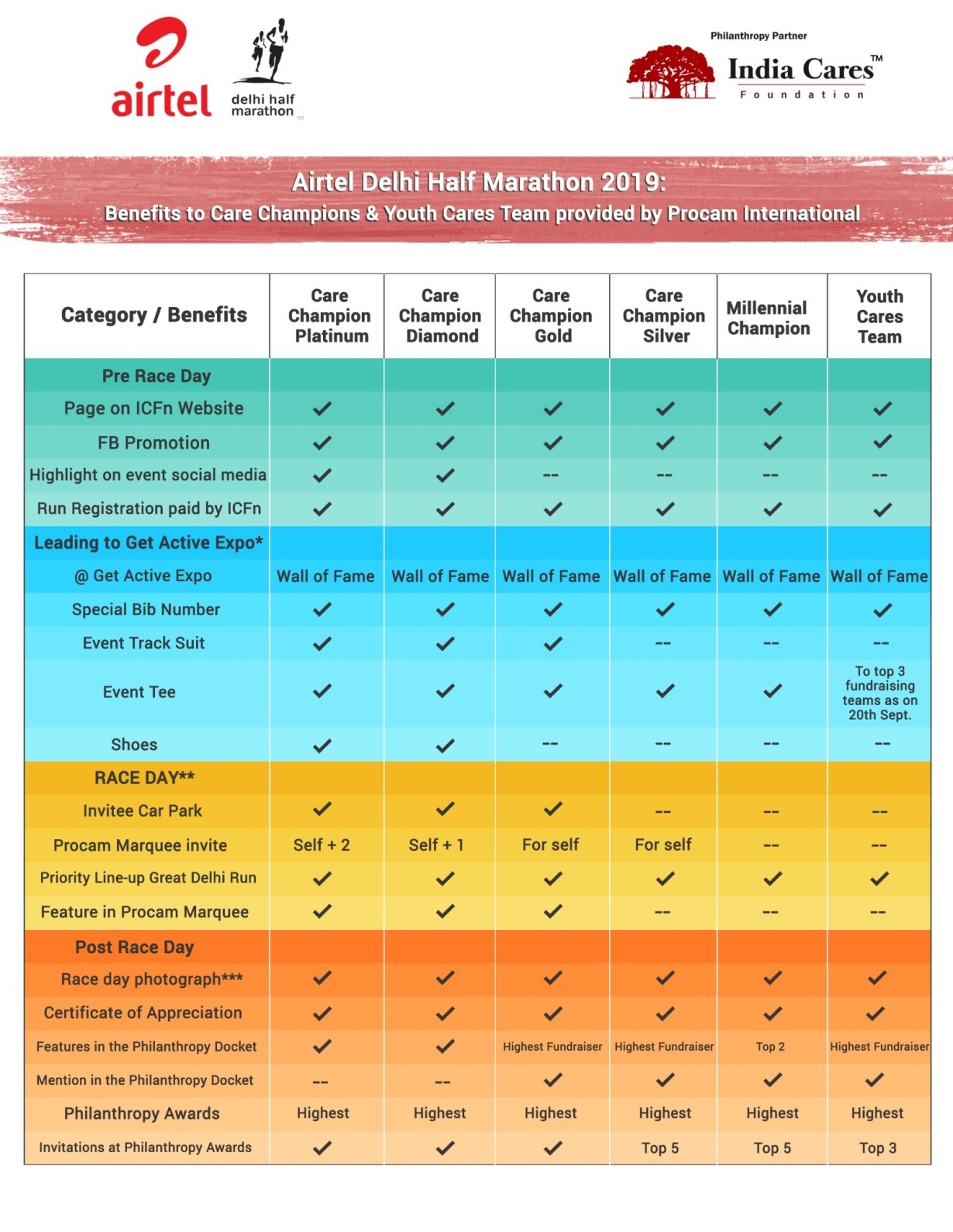 PRIVILEGES FOR CORPORATE CARES TEAMS PROVIDED BY PROCAM INTERNATIONAL, EVENT PROMOTERS
Regular pre-race day communication from India Cares Foundation (Official Philanthropic partner of ADHM). Meetings with team leaders to give Event updates, pledge raising tips, standardized presentations which they can use to motivate their team members.

Acknowledgement on India Cares Foundation's website.

Companies who complete the process of registering, making donations and run registration payments by 20th Sept 2019 will have their name printed on their Team's running bibs (only for Great Delhi Run).

Team members participating in the Great Delhi Run race category will be hosted in a special Corporate Cares holding area at the event venue on race day.

Visibility for company and supporting CSO within the Corporate Cares holding area

Corporate Cares Teams raising Rs 2.50 lakh and more for their chose CSO, on or before 30th September 2019, will have a banner on the race route too.
Companies contributing ₹ 10 lakh and above, on or before 20th September 2019, will get invites and a car parking for 2 members of their top management team, larger sized banner in Corporate Cares holding area and race route to encourage their team from the VIP Marquee

Team acknowledgement in the docket published post race day.