Just like any regular routine, the counsellor Ms. Deepika Singh was keen on selecting an interesting topic for the students in intervention school in Mumbai. With her past two years of experience, many cases of bullying were reported to her. Initially she would hear out the cases of the victims in individual sessions. However, this did not yield much success. Then it struck her to address this concern on a bigger platform.
Let's learn little about it…
Bullying is an aggressive behaviour affecting individuals not only in their adolescent years, but also well into their adulthood. Bullying manifests in various forms in school context such as verbal, social, physical or sexual. This can lead to psychological trauma. Bullying behaviour is recognized by an imbalance of power, repetitiveness and the intention of bullying to harm the victim. Keeping this in mind, sessions were planned carefully keeping in view the age of the child and the learning capacity.
A scar on the child's mind and psyche can be very difficult to heal as it has a long-term effect on the personality. Some carry bitter and painful memories of such childhood scars right till the end of their lives.
The SMHEAP – समीप (Shikshantraa Plus Mental Health Education & Awareness Programme) intervention of KHUSHII under the Shikshaantra Plus programme works to promote the physical, psychological and social development of children in Government schools. It focuses on holistic development of children including the challenges of academic performance and mental wellbeing. The SMHEAP programme approaches the issue through modules designed to deal and eliminate bullying in school. These modules, explains the manifestation of such behaviour, through pictures and illustrations. Children are engaged to recognize different acts of bullying and through discussions their minds are opened about its occurrence in their own schools.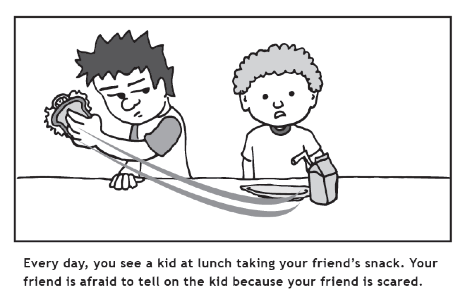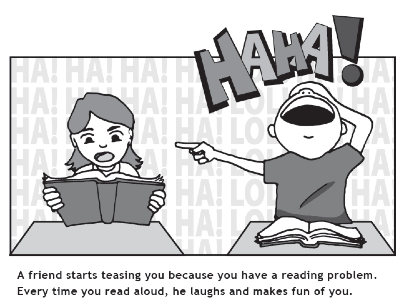 Examples of Picture Illustration used in the session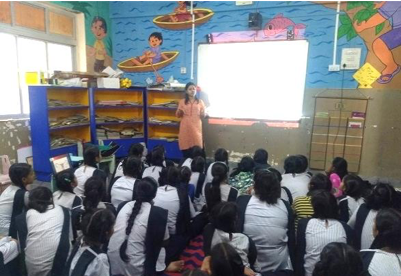 Anti-bullying session taking place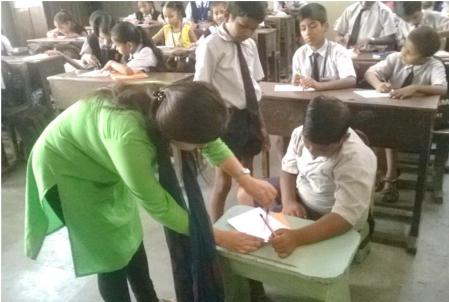 Children attempting an exercise on bullying
Bullying and Mental Health are two interwoven concepts. Responses from the students were immense in terms of short-term implications (drop-out, poor academic performance) and long term (depression, poor general health and substance abuse). A very strong correlation also came out between the bullying behaviour and the substance abuse as narrated by a student, as it is also considered a part of bullying. As part of the anti-bullying programme, students pledged not to be a part of the bullying; if they happen to see it, it should be opposed and discouraged. The role of the teachers during this entire process was also shared which highlighted the fact that "they are not only the torchbearers but the frontiers in any challenging situation".
Once the sessions were completed, the students decided that anti-bullying strategies will be disseminated among all the students through KHUSHII Maitri Groups,  especially the Disciplinarian team so that the unknown cases can be channelized to the counsellors and teaching faculties. Psychological intervention is been carried out through various modalities such as Creative Arts Therapy & Cognitive-Behavioural Therapy in a much effective way. In a majority of the cases, bullying is actually the overt behaviour which is deep-rooted in other more far-reaching concerns. The art of identifying and diagnosing the problem lies with the entire teaching and student community. If the menace is nipped in the bud, it makes for the healthy development of a child's personality without having to undergo the nightmare of childhood abuse etched in their memory for a long time into their adulthood.
KHUSHII proudly stands for zero tolerance for bullying to ensure that our children's growth is not impeded by the menace of intimidation.
Key achievements of The SMHEAP programme in 2018-19 –
10 certified Counsellors deployed in 18 Govt. schools
28,000 students in Govt. Schools accessing the facility daily
15 counselling helpdesk set up in 18 schools, counselling helpdesk has been established at the school to address and support individual issues of student.
1,781 teachers trained through 93 workshops
14,970 students in 18 schools reached through "Save Missing Child" campaign to create awareness around human trafficking and its prevention.